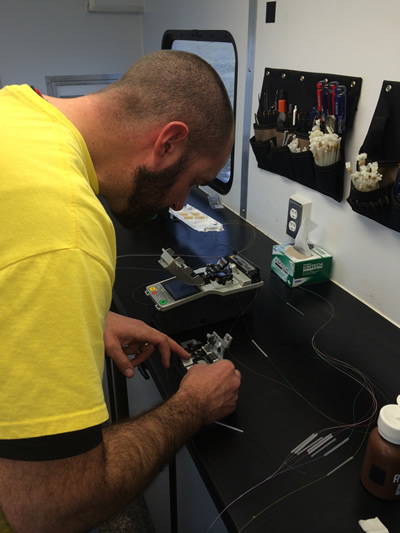 Fiber, Coax and Copper Splicing
Communication Data Link has expertise with fiber, coax, and copper splicing and activation. We understand the importance of down time for customers and therefore have crews available on-demand to provide fiber splicing services such as hot cut work, emergency testing, and restoration. We have an excellent track record of delivering quality splicing services.
We provide a variety of services with our splicing. We provide complete Outside Plant Splicing (OSP) and Inside Plant Splicing (ISP) fiber splicing services. Our experience includes extensive long haul projects to a 2 strand lateral splice. We also offer fiber optic cable installation.
Other Fiber, Copper, and Coax Splicing Services Include:
Long Haul Aerial or Underground

Entrance Cabinets

Distribution Panels

New Builds & Extensions

System Cutovers

Hot Cuts

Mid Sheath Laterals

Retrofit/Upgrade Splicing

Overbuild

Full System Splicing

Fusion / Mechanical splicing

Emergency Restoration

Audit Inspection Service / Reel Testing

Troubleshoot; Test with OTDR and Power Meter